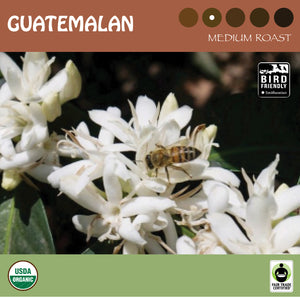 Guatemalan - Huehuetenango
Regular price
$15.00
$0.00
Unit price
per
This special coffee comes from an extremely mountainous and isolated corner of Guatemala known as Huehuetenango. Because of the spectacularly rugged terrain, the indigenous heritage, distinct clothing, and dialects that can vary from one mountain ridge to the next have been preserved. The coffee is sourced from family-owned farms organized into a cooperative, consisting of more than 1,400 farmers who cultivate and harvest their coffee on small farms with their own micro-mills, and are spread across 80 communities.
The cooperative is an essential bridge between farmers and the international coffee community. It is simply one of the most sophisticated and well-organized cooperatives there is. 
Because of their remoteness, they use the pulp from the coffee fruit to make organic fertilizers to reduce the transportation costs associated with purchasing fertilizer from afar, and at the same time, create an abundant source of organic plant nutrition that ensures better yields and quality.
A sweet yet tart caramel taste. 

Photo Credit - The Guatemalan National Coffee Association
---