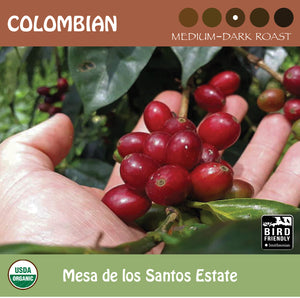 Colombian
Regular price
$14.50
$0.00
Unit price
per
This coffee is Signature's most romantic coffee. Imagine the perfect coffee estate, high up in the mountains of Colombia where coffee is grown amongst a variety of banana and shade trees to provide food and habitat to native and migratory birds. The 800-acre farm is known as Mesa de Los Santos, or Table of the Saints. Since 1840, it has been lovingly handed down from generation to generation.
Every generation has focused on not only the environmental stewardship of the land but on the fair and ethical treatment of their workers. They pay wages well above the Colombian minimum salary, offer free healthcare coverage for the workers and their families, educational stipends for children, insurance coverage for temporary or permanent work disability, and a pension fund to provide retirement benefits. The working conditions are among the best on any coffee farm anywhere.
With the beautiful natural setting of this farm, the shaded, organically cultivated fields, and a contented and amiable workforce, Mesa de Los Santos is a Shangri-La in the middle of a country often racked with political, environmental, and economic problems. It really does make us feel good knowing that we're helping support their work.   
Mesa de Los Santos is certified Bird Friendly by the Smithsonian Migratory Bird Center (SMBC), dedicated to understanding, conserving, and championing bird migration. Bird Friendly farms must be 100% organically certified, and farmed with practices that do not destroy forest habitat, and leave space for birds. When forests disappear, migratory songbirds disappear too.
Oh Yeah, and it tastes amazing. Everything you want in a coffee: mellow sweet smooth and buttery with no bitterness. With all that fabulous energy, how could it not taste amazing?

Picture Credit - Mesa de Los Santos
---