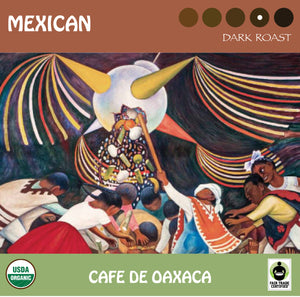 Mexican - Café de Oaxaca
Regular price
$15.00
$0.00
Unit price
per
Some of the best coffees in the world come from our neighbors to the south. We fell in love with Mexico, its people, and its coffee over 30 years ago, and it was one of the first coffees we ever roasted. 
We source these organic, fair-trade beans from a large cooperative in Oaxaca, with over 4000 very small family farm members, each consisting of just a few acres of land. These small farms are peppered throughout the coastal mountain range where lush tropical forests are intercropped with coffee, bananas, corn, beans, and fruit trees. And if that isn't picturesque enough, many of the local population can be seen wearing their traditional indigenous clothing.
The superior high-grown coffees are roasted to an extra deep dark roast, creating a taste as colorful as the people with a subtle spicy cocoa flavor. 
 Note. Nearly forty percent of the cooperative farmers are women who rely on the additional fair trade premium from coffee to support their families.
Photo Credit - Diego Rivera
---