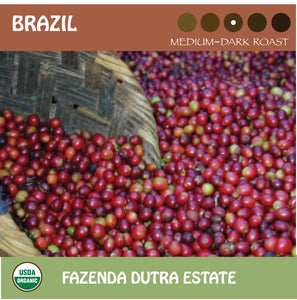 Brazil - Fazenda Dutra
Regular price
$18.00
$0.00
Unit price
per
Ah yes, Brazil. Land of Mardi Gras, samba, bossa nova, and coffee. Lots and lots of coffee. Brazil is the world's largest coffee producer. Most of that coffee comes from huge plantations, grown in full sun demanding lots of chemical fertilizers and harvested using machines that eliminate jobs.  Small organic farmers find competing hard, even though they offer better-tasting and sustainable coffee. So naturally, we went looking for the little guy to buy the coffee from.  
We are proud to support one such farm, or Fazenda as they're known in Brazil. The Dutra family started planting coffee over 50 years ago and have grown their estate to nearly 2,500 acres and the coffee is harvested by hand by more than 600 seasonal workers. While this estate seems big, it is relatively small by Brazilian standards. This has allowed the Dutra family to focus on specialty-grade coffee with a passion for sustainability. A leader in solar energy within the coffee production arena, they utilize solar power for most of their coffee processing. The estate also boasts nearly 750 acres of native forest, preserved to protect their water sources, and create natural barriers to protect their coffee trees from wind and erosion. In addition to that, The Dutra family also takes their role as an employer very seriously.  There is a school located at the estate and a health care program for all their employees and their families. Who wouldn't want to support them?  
This medium-dark roast hits all the traditional rich and creamy Brazilian notes.

PICTURE CREDIT - jahva mama
---