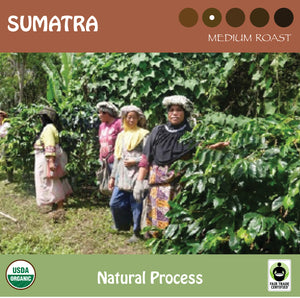 Sumatra
Regular price
$15.50
$0.00
Unit price
per
Sumatra. The Ugly bean!  After removing the beans from the coffee cherries, the green beans don't get "washed" like most of the pretty beans we get from other countries. Instead, they are naturally dried in the sun. This results in an ugly bean that has irregularities in size, shape, and color. But, this is exactly what contributes to the earthiness of this coffee and makes it one of our most popular best sellers. 
Produced on family-owned farms on the island of Sumatra, Indonesia. A large percentage of these farmers, typically from the most remote villages of the Takengon highlands, are widows who lost their husbands during periods of conflict in Aceh. A women's organization within the cooperative was recently formed to address the needs of the community, which includes plans to build a health center. 
Signature is proud to help support these women, and you can too, by trying this smooth, very full-bodied, low acidic medium roast. Mellow, smooth, and super easy to drink all day long. A favorite, tried and true go-to coffee for most of our Signature crew.
Photo Credit - Royal Coffee
---