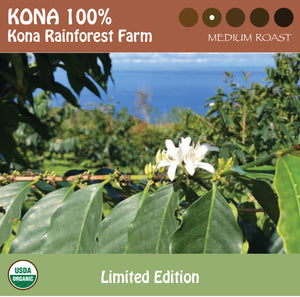 Kona 100%
Regular price
$62.00
$0.00
Unit price
per
Not all Kona coffee is the same, and we spent years trying to find the best organic one. In 2016 we found it. This 'extra-fancy' grade of coffee from the Kona Rainforest Farm is grown on the flanks of Mauna Loa. Of the 600-plus coffee farms in the coffee belt of Kona, this one has the perfect combination of volcanic soil, sunshine, rainfall, temperature, and location to produce a superior coffee bean.
If you want to experience Kona Coffee at its finest, stay at their guesthouse located on the farm.
Sweet and Delicate. Truly the best of the best!
Photo Credit - Kona Rainforest Farm
---